Turn 3
*out of game* To update, Gazza had to call off his attendance of the game but Chris (irollones)took his place, knowing that he had interest in the system I called up Karl (2karl) to take my place, I was then on notes duty and left to do the report so here it is. As you may know Bolt Action uses a Dice selection system, where they are drawn from a bag I will note what colour was pulled then add a little embellishment of action,
RED
is soviet and
BLACK
is German/SS.
RED
The Heavy machine gunner gritted his teeth and opened up on the Stuka as it began to pull out of its dive (+1 pin)
BLACK
SS squad on the right side of the road NCO screams at his men to charge the LMG squad hiding in the woods, the closing fire takes out enough to make the difference and the brutal hand to hand sees the end of the SS. (5 of the 11 LMG remain)
RED
The remaining two mortar crew fire on the instruction of the spotter but miss wildly.
RED
The rookies (free rifle squad) open up on the advancing SS and nail one of the swine.
BLACK
The Medium machine gun hidden in the creator opens fire on the hated NKVD and wastes another 2 as they dive in to the wooded cover
BLACK
MMG no 2 fires again at the weakened NKVD and another falls, after testing for morale they hold their ground.
RED
Advancing the Cavalry Squad open up on an MMG team killing a crew member.
RED
NKVD which had suffered a lot of damage failed a command and hit the deck.
RED
Assault engineers race on to the battlefield and head straight for the bridge.
BLACK
The mortar crew fire blind into the woods and miss soviet troops by the smallest of margins.
BLACK
SS lieutenant and his lackeys move up and fire on the Soviet cavalry squad removing one.
BLACK
SS Flamethrower crew move into the woods and walk into an NKVD ambush, they are totally destroyed with out firing. ( thats NKVD 1...Flamethrower 1)
RED
With the smell of frankfurters in the air the Soviet lieutenant sets to ambush.
BLACK
The second SS squad on the right charge the remaining troops from the LMG squad and wipe them out then follow up further into the woods to gain a lot of ground.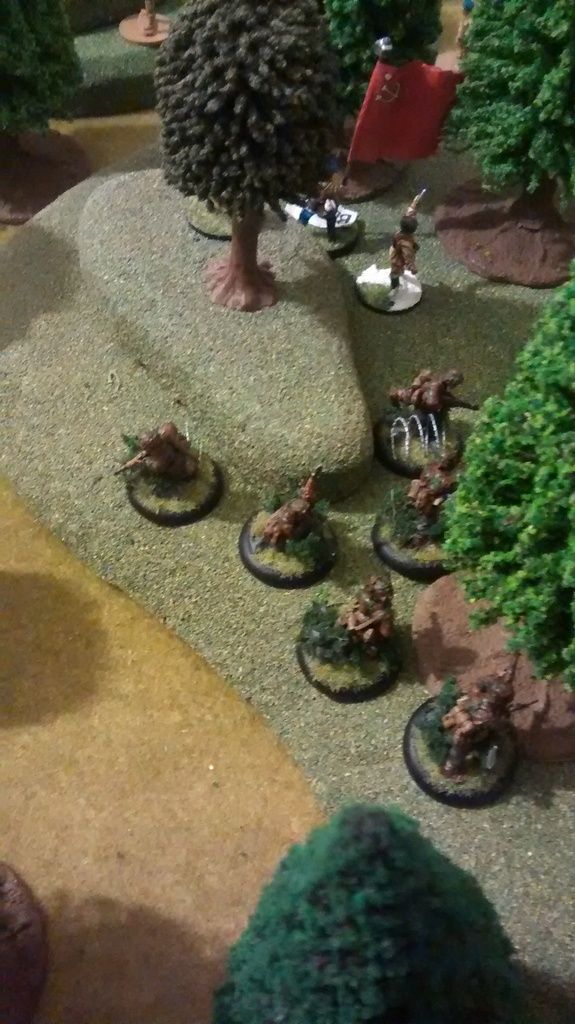 BLACK
SS squad to the left open up with everything they have on the rookies.....who were not made for war, they hit the deck then started to run as they were mercilessly cut down by the hun.
BLACK
Stuka pilot finally got his plane out of firing line and pulled out ready for another attack.
End turn, tired to show how a turn worked with this, hope it helped. Don't worry all, sure Gazza will be back for turn 5 and 6. Turn 4 to follow soon.

_________________
Currently Playing


Bolt Action - Soviet Union


Currently Building
BlackPowder - French