After much thought and asking opinons I have decided to paint my entire faction with an autumn theme hopefully this will come across when the models are compleated.
I'm not setting out to rush these and I'm not the swiftest of painters plus I have many life commitments to juggle but I'm hoping to keep this relatively up to date.
My first project will be the War wolf as I really like the model and its relatively simple painting wise.
My initial plan is to give it some leopard spotting on the fur just to add some intrest to the model and a challenge for myself.
Unfortuantly I had this idea just after i had based coated the model so the prep section will have to be described with out a picture (I'm sure you will cope)
Construction and priming:
Ok so gluing the back leg on was simple, I didn't pin it as its fixed to the base aswell as the model and its a large fixing area so didn't really need it, I did however find that the joint line needed a slight fill on it, for this i used playdoh (yeah kids playdoh), I find for small fine joint lines its perfect as you can use just your finger and its easily removed from any detail if it goes in the wrong place. The area I had to apply it to was so small and fine its softness wasn't an issue and it saves on expensive modeling putty. I wouldn't us it on large filling areas or any moulding work.
I prime everything I paint, for this model I used Coat d'arms grey primer thinned down pulling any exess off with a dry brush and trying to keep it even and thin. I use a white/grey primer on prity much everything I paint for the very reason that its easier to make things look dull than it is to make them look bright. The only exception to this is when the model is mainly black or very dark.
Base coat
After the primer was dry I applied a coat of Fiery orange (old gw paint) to all the areas that are body or fur, at this point neatness isn't some thing to overly worry about but keeping the paint nice and even and not to thick is. Make sure the paint has reached all the recesses of the model and hasn't pooled any where losing detail.
Inking
After the base coat is dry I covered all of the orange area with a thin coat of burnt umber Acrylic artists ink. I thined it down a little just enough to bring out the detail and definition of the model. Make sure the entire area is properly covered and the ink is emphasing the detail. This process helps give the models more depth and also shows you where to highlight to a degree.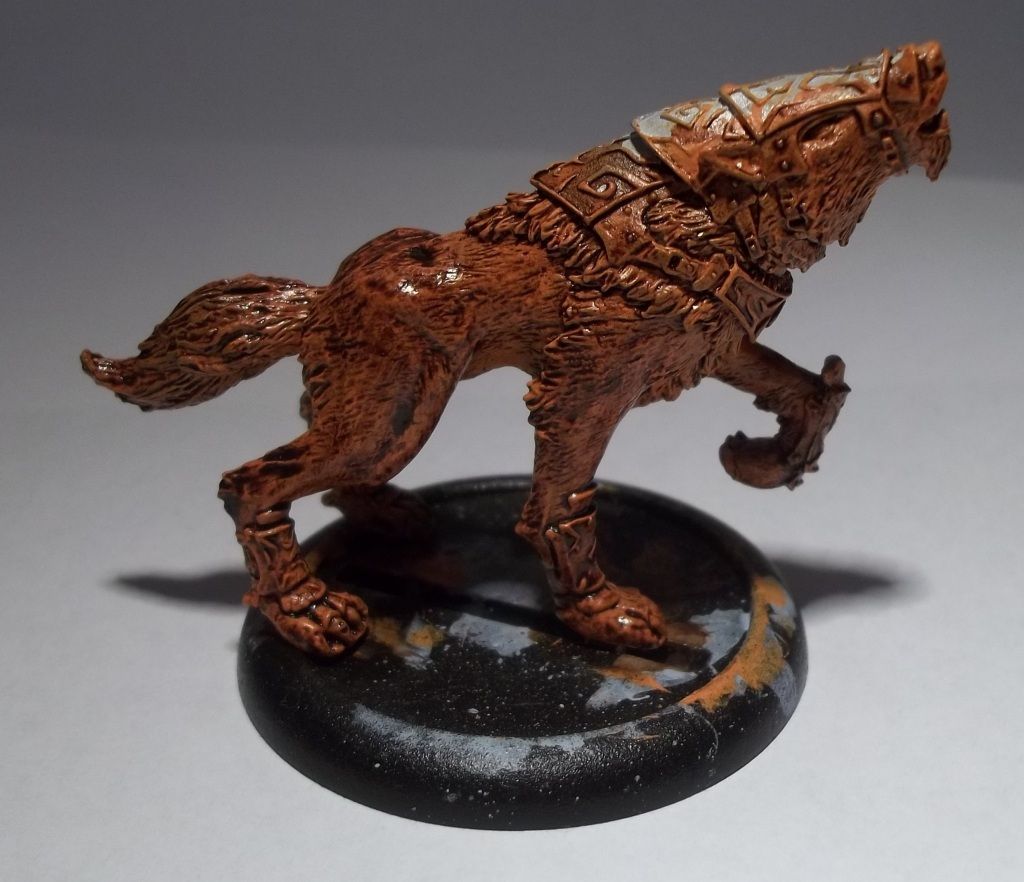 Thats how far I have got and havn't had chance to continue tonight. Hopefully I should get another installment up tomorrow. Thanks for reading thus far

_________________
Currently Playing


Bolt Action - Soviet Union


Currently Building
BlackPowder - French