This is the current work in progress, he's got a great pose but there's no soldier that has a single hand weapon and mail armour so I started looking at what he could convert to.
Knight is easy by adding a shield but I have two of those already so no point.
I could try for another marksman but I can't see me wanting two plus I don't have any xbows.
I could go the whole way to the other end and make him a thug by trying to hide the mail armour (around his neck/shoulders) but I already have something in mind that will get me a couple of obvious thugs and this guys too cool for that.
Hiding the mail armour part gave me an idea though, I don't have any treasure hunters (or even ideas for them) and with the addition of a knife this guy is part way there: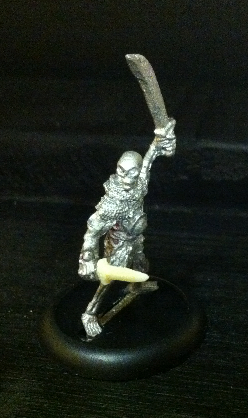 The plan is to paint his tattered rags as leather but I'm hoping that tomorrow will see the mail armour part turned into fur with a bit of greenstuff magic! That should make sense alongside the leather armour and add a bit of diversity.