Finally had my Warband out for its first quest into the city! Turns out that on the edge of the ruins is a little fishing village that looks a lot like the area we raided when Cutlass was being played, who would have guessed?!
You can tell from the picture (I'm on the right) that it's not all going my way, my archers came unstuck vs the crossbows (the move and shoot is great but that extra damage is a killer!) and in the main brawl on the left I lost both hounds and a bear but took out a thug in return. I did make it away with a few treasures though and we used the Peter-Pig turn counting thing (starting at 19) and it worked brilliantly, even when the number got low you never quite knew if you had one more turn or if this was the last so no stalling on the edge of the table with treasure!
One thing that setting up a game did (apart from highlight the fact I need some alternative terrain) is remind me that I hadn't made any treasure tokens so I've rustled up a few crates of loot, converted some barrels to be full of coins and created a stash of weapons. These are all fine but what's really important is that there's a "Reveal Secrets" spell that can add an extra treasure token close by, and what's the best secret treasure to reveal? Well, I give you...the "Secret Font of Nuff-El", rumour has it this is where the rules of the infamous bloodsport were handed down to the first ever Blood Bowl players!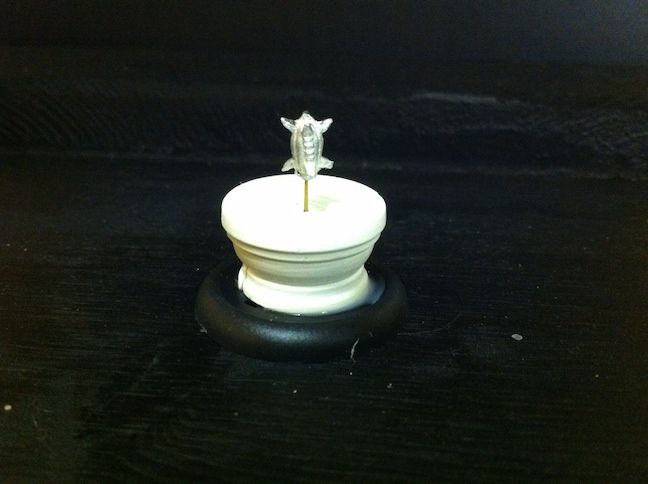 It needs some work with the paint brush but the aim is to have the football floating in the air above a pool in the basin of the font